Lucas Kozeniesky earned a silver medal in Men's 10M Air Rifle at the Changwon World Cup, adding to his many titles earned in just 2022 alone.
"I went out there and performed the way I wanted to, I was very pleased" said Kozeniesky, a 2020 Olympic silver medalist. "This gave me confidence and told me there is room for growth leading into the World Championships."
The World Cup medalist mentioned that Changwon was good practice for the Olympic Games because he wasn't competing in many of events and was able to focus his efforts on the individual competitions, much like the environment of the Games.
Kozeniesky also earned two titles at the 2022 Rifle National Championships weeks before the World Cup. He won gold in Men's 50M Smallbore and silver in Men's 10M Air Rifle.
"At nationals I shot the best air gun I have since the Olympics," said Kozeniesky, who is ranked ninth in the world for Men's 10M Air Rifle.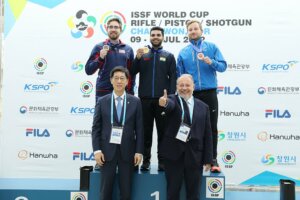 At the Rio World Cup in April, Kozeniesky started off his list of 2022 titles with a bronze medal in Men's 50m Smallbore Team, along with teammates Ivan Roe and Tim Sherry, and a gold medal in Men's Air Rifle team with Will Shaner and Rylan Kissell.
"In team events you rely on the other athletes to perform," said Kozeniesky, a North Carolina State University alumnus. "Will and Rylan shot well in air so it was a great team effort."
Not only does Kozeniesky train full time at the Olympic and Paralympic Shooting Center in Colorado Springs, Colorado, but he also manages his own coaching business, Team Winning Solutions.
"I have to utilize a lot of time management, prioritization, and planning with the athletes to make sure they get everything they need," said Kozeniesky about balancing both full time jobs. "Leading into nationals, I found creative ways to train that would also help my athletes improve. There is a lot of overlap between their shooting career development and mine."
Kozeniesky is currently training for a smallbore rifle selection match and the 2022 World Championships that will be held in Egypt this fall. The two-time Olympian will be looking to make the Worlds team for both air and smallbore rifle.
To help support Kozeniesky and other USA Shooting athletes on their journey to worlds, visit our crowdfunding campaign at https://app.mobilecause.com/vf/WORLDS.